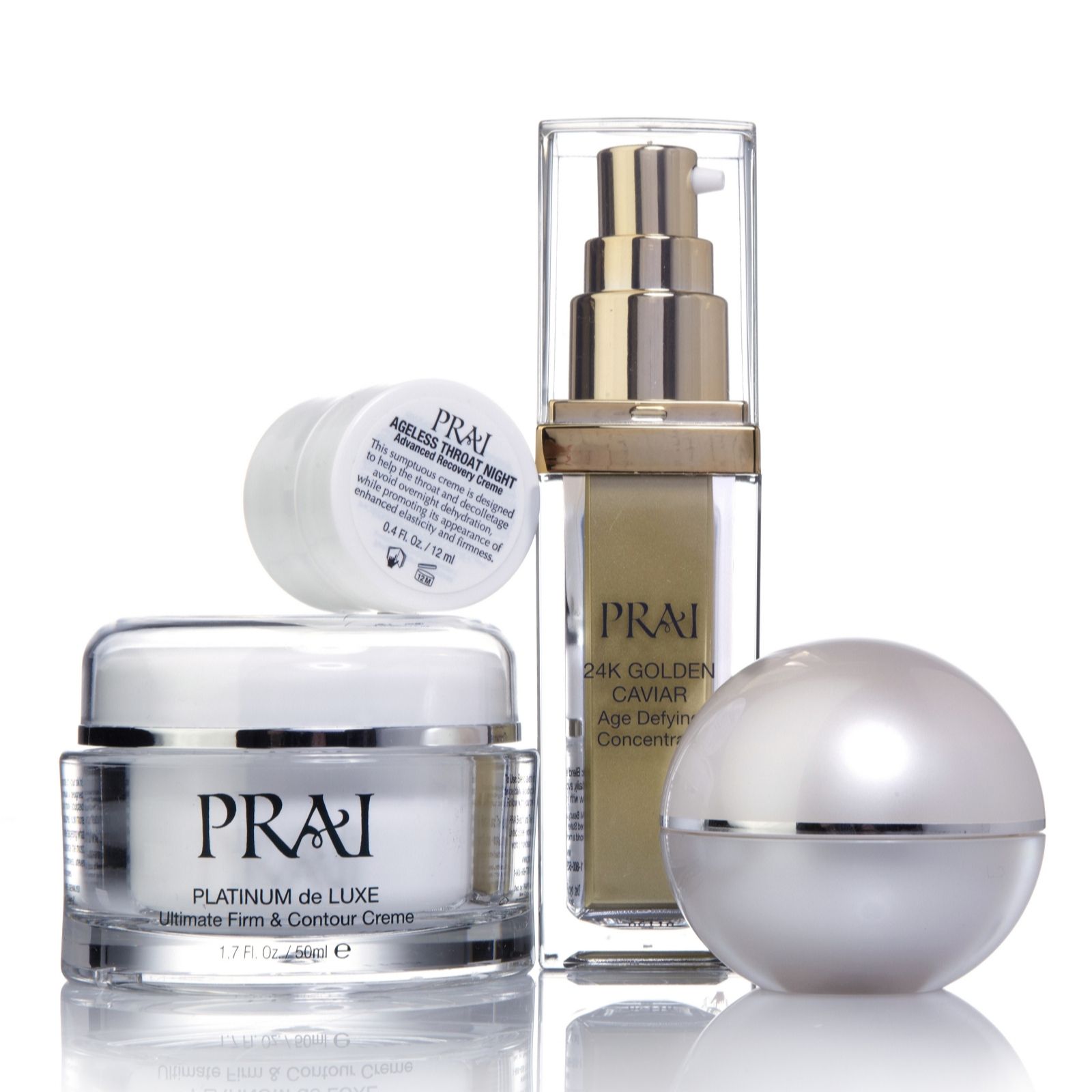 This
looks like such a good deal if you like Prai products, or even if you just fancy trying them out. Today this set is being sold for 36.94 plus £4.45 postage and packaging on
QVC
, instead of their usual price of £44.50. Now if this saving didn't already sound good enough, just look below at the contents and how much they'd usually cost to buy!
Contains:
1 x 24k Golden Caviar Age Defying Concentrate (30ml) - formulated to help address multiple ageing concerns, this serum combines peptides with botanicals and helps to aid the skin's revitalisation process
USUALLY
£35.75 (plus £3.95 postage)
1 x Platinum De Luxe Ultimate Firming & Contouring Creme (50ml) - helps to improve the appearance of conditions that age your skin's appearance. By helping to promote the skin's elasticity, this cream aids the improvement of suppleness and tone
USUALLY
£31.50 for 30ml (plus £3.45 postage) which equates to £52.50 for the 50ml you receive with this (excluding postage)
1 x Advanced Radiant Eye Repair With Matrixyl (15ml) - helps to minimise the appearance of fine lines and crow's feet. This cream glides on effortlessly without pulling or stretching thin, fragile skin
USUALLY
£26.50 (plus £3.45 postage)
1 x Ageless Throat Night Advanced Recovery Creme (12ml) - specially designed to protect the vulnerable throat area from overnight dehydration while further helping to bolster the appearance of elasticity and firmness
30ml full size is $40, I can;t find a UK price for it
, so roughly $20 worth which is about £12.50 at today's exchange rate.
So, you get 3 full sized product and a sample, worth approximately £127.25 without any postage costs factored in. I think it would make a lovely gift and will clearly look like you've spent a lot more on it too which might earn you some brownie points!
QVC Site!